Zimbalooba Rhodesian Ridgebacks
Welcome to the Zimbalooba website.
Your hosts are Darrel and Shannen Mills. We live just outside Wodonga in Victoria, Australia and are the proud owners and breeders of Rhodesian Ridgebacks. Your patience is appreciated as this page was created on 20 July 1998 and is a work in progress.
---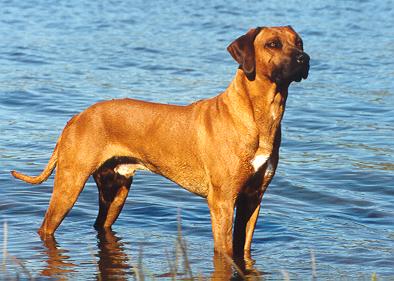 Aust. CH Ujamaa Satisfaction
---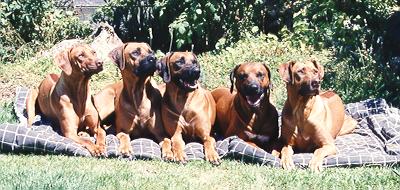 The whole gang, from left to right:
Zimbalooba Red Devil (Xena)
CH. Zimbalooba Green Machine (Jonti)
CH. Zimbalooba Empire Rose (Tuli)
CH. Ujamaa Satisfaction (Chobe)
CH. Cabinda Cat Balou CDX (Rhodeesh)
---
My Short List of Links
Rhodesian Ridgeback Links - Australia:
Chilolo Rhodesian Ridgebacks:
The Royal New South Wales Canine Council:
---
Our contact details are :
email
zimba@dragnet.com.au
postal
Darrel & Shannen Mills
RMB 15 Patrice Vale
Via Wodonga, VIC, 3691
phone
fax
02 6020 8518
02 6023 2053

This page has been visited

times.
Last updated on 24 Sep 1998.